For this month's next review for Genre Grandeur – Movies of the Outdoors here's a review of The River of No Return (1954) by Emily of The Flapper Dame
Thanks again to Joel of Joel Watches Movies for choosing this month's genre.
Next month's genre has been chosen by Jess Manzo of French Toast Sunday and we will be reviewing our favorite Movies that take place over a 24 Hour Time Frame (Not including time loop movies).

Please get me your submissions by the 25th of Aug by sending them to 24hrJess@movierob.net
Try to think out of the box! Great choice Jess!
Let's see what Emily thought of this movie:
__________________________________________
The great outdoors are really personally not for me. I've always been an, "indoors girl", as I semi-quote Jack Dawson in Titanic (1997). That's why I love movies- they can bring the tough outdoors to the comfort of the indoors! So of course I had to do Movie Rob's Genre Grandeur of The Great Outdoors! A great outdoors movie with breathtaking landscapes and scenery is 1954's River of no Return.
Directed by Otto Preminger, starring Robert Mitchum and Marilyn Monroe at first glance you'd think, well that doesn't work. Even Marilyn didn't believe in it, but I say she was too harsh on herself as she got to play a different type of role. Robert Mitchum plays Matt, a father with a young son Mark, and with Marilyn as his love interest, dance hall singer Kay, it gives her a chance to play a mother-figure.
The film starts off when Mark is abandoned by his caretaker and Kay looks after him until he reunites with his father. Mark and Matt are strangers, as Matt was in jail for killing a man in self defense. Kay reunites Mark with Matt and they part ways until Kay runs into them again while traveling on the river with her fiance, Harry. Kay and Harry's raft gets ruined, and Harry steals Matt's horse and rifle to continue on to the City Council to retrieve a deed on a gold mine. Kay is left behind with Matt and Mark in the wilderness.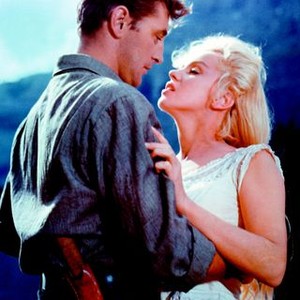 The trio then embark down what the Indians call 'the river of no return'. Battling the elements and Indians, Matt and Kay bond with each other. Mark learns about his dad's prison stay but starts to see him differently when he protects/ cares for both himself and Kay.
Its sort odd, I never seek out Robert Mitchum films, they come to me; by interest of either another actor, director or premise- but watching this film made me see him in a different light. I'd previously seen Out of the Past (1947) and El Dorado (1967), but this was my first Mitchum film in which I saw him play a true romantic lead, and it was cool!  
Going deeper with the romance,  I really liked that element between Marilyn and Robert Mitchum. They just click with each other. Marilyn got to be serious, and not just the blonde, while Mitch got to be the romantic tough guy. He still has to have that element about him, as he plays an outdoors man, but he has his tender moments.
The cinematography is what always keeps me coming back to this film. Its gorgeous and not a studio back lot, instead being filmed on location in Calgary and in Idaho for the use of the Salmon River for the long shots. Production on location was not without its faults, however, as Marilyn almost drowned with Mr. Mitchum diving into save her. On another occasion, when insisting they both do their own stunts, Bob and Marilyn's raft flipped over, and Marilyn twisted her ankle! She was on crutches for the rest of the shoot, but nonetheless, it didn't slow down shooting!
Of course, I must mention the spectacular songs Marilyn gets to sing, including a version of the title song! She worked very hard to get her finger positions correct to play the guitar, and even though its NOT her doing the playing, she certainly put in her best effort!
Overall, River of No Return is a fun and quick film to watch. Sometimes you need to see actors in different types of settings and this is a perfect example for both of the leads. Bringing the wilderness indoors, it makes for a great viewing experience from the coziness of your great indoors!